Performances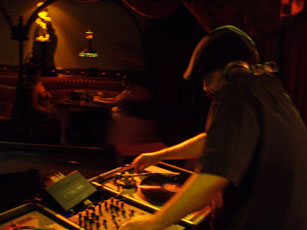 News
23 January 2012 - Sugar Fix
I took a bit of a hiatus from music during 2010, so as my buddy Desmond's Vegas wedding was nearing in early 2011, I put this mix together on 23 January 2011 as a means of getting the gang feelin good, and all pumped up. Sugar Fix seemed an appropriate name. It took me a year to post it, but here it is: check it out under Set Samples below.
16 October 2009 - Filling in for J-Twist
This mix is a complete mess, but was fun to lay down. Station23 resident J-Twist was unavailable for September's show, so I stepped in to try and fill the brother's shoes. Clearly, they're a size or two bigger than mine.
21 August 2009 - Continental Breakfast
This mix has a bit of everything—even some mistakes. Put together for Station 23 Music Journalism Podcast, a live event held first saturday of every month at the Continental Room in Fullerton, CA. Check it out!
24 January 2009 - Juicer Mix (Shawn Kwon Do Tribute)
A friend of more than 20 years, Shawn Korhel, gave me a hard time about the cheesy names of my mixes... he's right: they're cheesy. So I pulled an older, unpublished mix out of the vaults, and renamed it, just for him! Thirty-four minutes of hip hop, rock, funk, and ska; right-click and "Save As" to download if you want.. also provided some iTunes cover art.

I uploaded an MP3 version of Summer Session Two for all those people who don't have RealPlayer. Ahh.. the good ol'e AIGA days.

A quick note on Steve, who assures me that though he still hasn't touched a record in months, he will not change his name to Gurprit before quitting his job to become an Alpaca farmer. We're ready for the mixes whenever you are, dude.